Awards of Egon and Ann Diczfalusy Foundation
Diczfalusy Award Lecture (DAL)
The aim of the "Egon & Ann Diczfalusy Foundation" is to support research in reproductive health, provide updated knowledge to Obstetricians-Gynaecologists and strengthen collaboration and friendship between clinicians and researchers in the Central-European Region.
It also supports the training of physicians and healthcare workers by organising scientific events, and helps young professionals to meet and gain knowledge from their most experienced colleagues.
To foster its aims, every year the Foundation organises an Annual Meeting with a Diczfalusy Award Lecture (DAL) Symposium on Reproductive Health. Besides a high-level scientific program with the best speakers and international participation at these meeting two prizes are handed over.
The Foundation grants yearly awards to encourage young research fellows doing research in the female healthcare arena and also a lifetime award for senior researchers from all over the world for their lifetime achievements on the field.
Young Scientist Award
The Prize consists of a bronze medal and is granted annually to an internationally acknowledged young investigator, for her/his achievements in improving Reproductive Health.
One side of the medal depicts a mother with her child and Professor Diczfalusy's Life-Motto:
"Empathy, Science and Hope."
The other side shows the Dom square of the city of Szeged, with the Votive Church and the Institute of Microbiology of the University, with a Latin phrase frequently quoted by Diczfalusy:
"Medicina Anchora Salutis."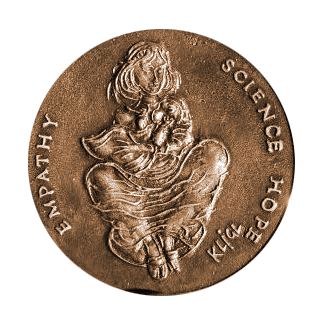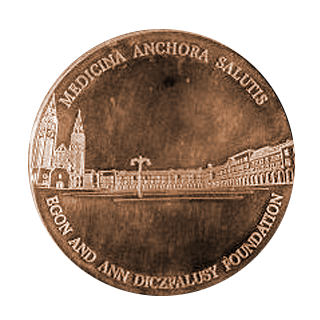 Awardees in the history of the "Young Scientist Award"
The Diczfalusy Award
The Prize consists of a small-scale version of the original statue of the Hungarian artist Klára Tóbiás, called the "Hungarian Pieta 1956". It acknowledges the lifetime achievements of a scientist in the field of research in Reproductive Health.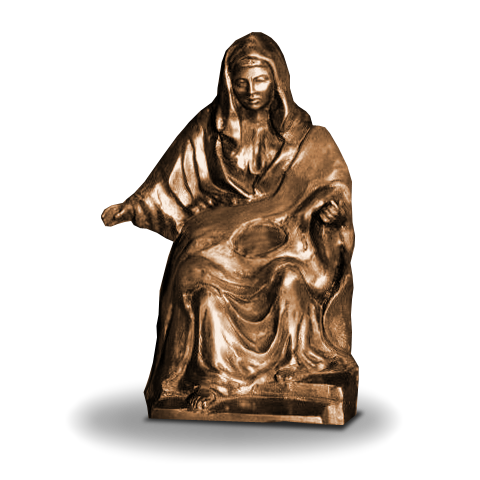 Awardees in the history of the "Lifetime Scientific Achievement Award"