Awardees of Egon and Ann Diczfalusy Foundation
Cristian FURĂU MD PhD
/ ˈkris.ti.an ˈfu.rə.u /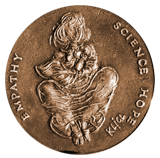 YOUNG SCIENTIST AWARD
WINNER IN 2011
Arad, Romania

University of Arad
Director for Residency Training and Postgraduate Courses
Through all his accomplishments, Dr. Cristian Gheorghe FURĂU has proven himself a true leader of his generation in his field of expertise and was nominated to be part of the Young Physician Leaders Program initiated by the InterAcademy Medical Panel.
He has combined the academic and research career with the clinical part and with the healthcare management and policies.
As a clinician he became a senior specialist in obstetrics & gynaecology, he attended postgraduate courses obtaining complementary competences, he benefited from fellowships at Szeged and Novi Sad Hospital. He was in charge of the Pathological Obstetrics and Delivery Room Departments with very good results and recently was appointed coordinator for the operating theatre.
By being elected president of Ethical Committee at a >1400 bed hospital, director for training in residency at the Medicine Faculty of the University of Arad, member in other committees, responsible for pilot project for maternal care in poor population and by his training in healthcare management, he shows great potential in this field.
He is a promising researcher with many articles published and awards received, an acknowledged international speaker and has very good organizing skills for medical educational events. He has developed very good international connections and he is very esteemed by his students and colleagues.
Also his communication and social skills, responsibility, ambition and commitment recommend him.