Members of the Board
Tibor NOVAK MD PhD habil
/ ˈtibor ˈnovaːk /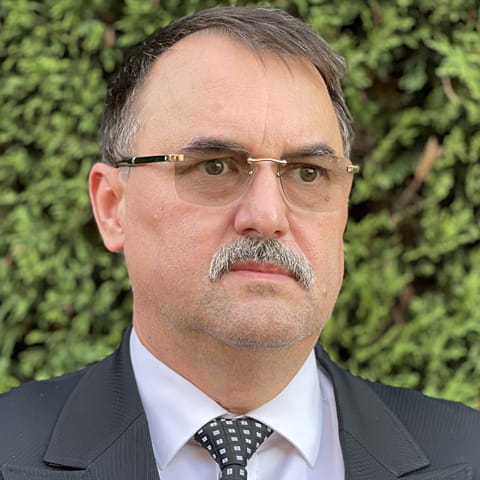 Szeged, Hungary

University of Szeged
Associate Professor of Department of Obstetrics and Gynecology
Tibor Novak was born in July 08, 1966, and obtained his medical diploma at the Victor Babes Medical and Pharmaceutical Faculty in Timisoara, Romania in 1996, and at the Albert Szent-Györgyi Medical Faculty in Szeged, Hungary in 1997.
He became specialist in obstetrics and gynecology in 2002 and obtained the PhD degree in 2009 at the Department of Obstetrics and Gynecology, University of Szeged. Being involved in clinical medical activity, teaching of the students and different scientific programmes, he sustained his habilitation course in 2019. Since July 01, 2020 he is Associate Professor and vice-head of the Department.
He is elected member for the second time (2016-2022, 2022 in present) on the Directorate of the Hungarian Society of Obstetrics and Gynecology, and since 2015 is the Secretary for the South-eastern Hungarian Section for the above mentioned Society.
Like a member of the Professional College of the Obstetrics and Gynecology led the team involved in the development of the national Protocol for the prevention, diagnosis of threatening delivery and treatment of premature birth.
Actually he is reviewer for scientific publications, like Journal of Hungarian Obstetricians and Gynecologists, Medicine, Archives of Gynecology and Obstetrics, Orvosi Hetilap.
Being involved in the formation of specialists in obstetrics and gynecology he is departamental coordinator for the national programme, and for the European Board and College for Obstetrics and Gynecology accreditation.
Is an active member and consultant in a lot of national and cross-border projects regarding the infrastuctural renewing and professional expansion of the Department of Obstetrics and Gynecology.
Tibor Novak has a lot of scientific publications, and sustained more presentations in the field of obstetrics and gynecology, nationwide and abroad, having a citation index of 317, and a Hirsch index of 7. He is conducting two doctoral programmes in the field of maternal dental modifications and it's implications, and cardiovascular changes, both in pregnancy.